STEWARDSHIP of TIME & TALENT FAIR –  June 3 & 4 immediately after every Mass in Benedict Hall 2nd Floor.
We are here to help you find a way to use your talents!  On June 3rd and 4th, you will be able to visit with several parish service groups. As we recognize that God is the source of all that we are and have, then the natural response is to give back out of gratitude. Enjoy the fellowship and time to find your calling.
 

9am Family Mass in Benedict 2nd floor will celebrate its last Family Mass on June 4 Pentecost Sunday, until September.
 Bread for the World Offering of Letters –  June 9 & 10 in Biss Hall after Mass View the video at this link
The Men's Group invites everyone June 18th for a pregame cookout at 12:00 Noon and walk to the stadium for 2:00 pm baseball game:
Charlotte Knights vs Indianapolis Indians
Field Box tickets for only $16/each
Discount tickets available until Monday, June 12 at this link: bit.ly/StPetersKnights
INSTRUCTIONS:  Go to this link to purchase tickets

: bit.ly/StPetersKnights

             Click here to sign up for the cookout
Coming June 24!
Our dialogue continues with Our Lady of Consolation parishioners.   This June our discussion is about "The Experience of Black vs White Students in Mecklenburg Area Catholic Schools"
For more information contact Barbara Dellinger at brbdllngr@aol.com

Read about "Charlotte Catholics: Their Stories in Black and White" – the December dialogue about race relations sponsored by St. Peter and Our Lady of Consolation in the Catholic News Herald – see page 3 –  http://catholicnewsherald.com/home-page/current-edition
and on WBTV news
Our YOUth Ministry program offers service opportunities for our elementary, middle, and high school students.  Go to our Sign Up Genius page by clicking the link below to register for current service opportunities: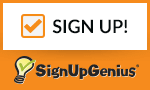 For more information, contact Cathy Chiappetta at cathy@stpeterscatholic.org