URGENT DRUID HILLS ACADEMY PARTNERSHIP NEWS! – Members of CMS Board of Education are planning changes that will have a major impact on the Druid Hills school and neighborhood community.
If the board votes to convert Druid Hills to a middle school, the PreK-5 children and their teachers will be dispersed and assigned to other schools. Our entire Druid Hills Community deserves to know more about this transition plan. To find out how this impacts the community, you are welcome to attend the March 27th Community Meeting at Druid Hills Academy 2801 Lucena St, Charlotte, NC 28206 at 5:30 pm.  On Tuesday night March 28th,  the Board of Education holds its public meeting at 6:00 p.m. in the Government Center at 600 East Fourth Street, and St Peter-Druid Hills volunteers, parents and concerned neighborhood citizens invite you to attend.
All are Welcome to the Lenten Reconciliation Service –
with individual Confession April 4 from 7:00 to 8:00PM in the church

Everyone is invited to Stations of the Cross on
Saturday, April 8 at 12 noon in the church.
Register here for the April 8 Ignatian Lenten Retreat

Saturday April 8, 2017  Closing Retreat  Biss Hall  9am-12noon
This Saturday retreat is presented by our Ignatian Spirituality team and will reflect on the Great Commission, "Go…make disciples of all nations."
Stations of the Cross will be in the church after the retreat.


Lenten Resources:   Living Lent Daily invites you to foster a daily practice of spiritual calm where God is at the center. Sign up for the daily e-mail messages and have inspiration delivered to your inbox.
If you like art, you'll love this site! Explore Lent through the lens of art.
If you're interested in something weekly, choose a day that works for you and commit to a set time each week. Then visit IgnatianSpirituality.com for the Ignatian Workout for Lent, Arts & Faith: Lent, or Growing in Friendship with God.
If you want to pray with the Examen this Lent, good options are the Lunchtime Examen, From Ashes to Glory, or the Reimagining the Examen app.
For more Lenten apps and ideas click this link:  http://www.ignatianspirituality.com/9288/yet-more-lent-ideas
This daily email subscription offers perspectives on social justice activism and advocacy: https://ignatiansolidarity.net/lent-2017/
"The Doctor Is In…  Pathways to a Healthy Mind, Body and Spirit" features our pastor Fr. Jim Shea on week 4, and a family from St Peter who experienced Christ's healing.   See video here: http://lentenfriends.org/session-guides.php
The Kennedy Lecture video of Fr. Greg Boyle, SJ is now on our website!  Go to this link to view: https://youtu.be/0tVGGto0p3s
The Kennedy Lecture recently hosted Jesuit Fr. Greg Boyle, author of "Tattoos on the Heart" and founder of Homeboy Industries in Los Angeles, CA. Fr. Greg spoke on the topic "Save t
he World…or Savor It? Being Reached by the Widow, Orphan and Stranger" to a crowd of more than 350 people.
Parishioner and artist Chas Fagan created the official portrait of Saint Teresa of Calcutta (Mother Teresa) for her sainthood ceremony in September. Now the portrait has a home at St. Peter. Chas presented the St Teresa of Calcutta painting to Fr. Jim Shea –  read the article here:  http://www.mdsj.org/news-detail?TN=NEWS-20170206100114
Our pastor Fr. Shea stays fit and ready to serve as he often rides his bike to the parish office.  Watch out for him on those streets around Dilworth!
Read about "Charlotte Catholics: Their Stories in Black and White" – the dialogue about race relations sponsored by St. Peter and Our Lady of Consolation in the Catholic News Herald – see page 3 –  http://catholicnewsherald.com/home-page/current-edition

and on WBTV news
Our YOUth Ministry program offers service opportunities for our elementary, middle, and high school students.  Go to our Sign Up Genius page by clicking the link below to register for current service opportunities: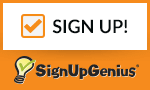 For more information, contact Cathy Chiappetta at cathy@stpeterscatholic.org