Since 1996, the "Garden of Eat'n" has provided hot dogs, water, soft drinks, cookies, and potato chips to the Carolina Panthers fans for a donation prior to every home game.  Serving from the front of St. Peter Church 9:30 am – 12:30 pm on Sundays before Panther 1:00 pm games.     See us on Facebook  
All proceeds are distributed to various non-profit ministries in the Charlotte community such as Urban Ministry Center, Loaves and Fishes, Uptown Shelters, McCreesh Place, & Catholic Social Services.
Would you like to be part of this ministry?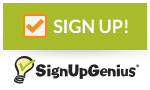 All volunteers at St Peter are required by the Catholic Diocese of Charlotte to fill out a volunteer packet before actively serving.
Volunteer Packet_-policies and forms_2017