To all of you who are on the journey towards Confirmation and full initiation into the Catholic Church, we are so glad that you have chosen to confirm your baptismal promises.   Brief descriptions of the Confirmation process at St. Peter are below.  We look forward to assisting you on this journey.
Pre-Confirmation is for students who have completed a parish catechesis program who would like to begin the Confirmation process.  At St. Peter this course is traditionally taken in 7th grade. This preparation year includes traditional academic work and scripture reflection. The texts used are Faith Fusion and The Catholic Youth Bible.  Pre-Confirmation provides an overview of scripture and Tradition that prepares students to renew their baptismal vows at Confirmation.
Confirmation Preparation is for students who have completed Pre-Confirmation at St. Peter's or are 8th graders in the MACS system.  The former superior general of the Jesuits, Pedro Arrupe, once said that the goal of Jesuit education was to form "men and women for others."  The goal of Confirmation is to provide the tools for your child to become a man or woman for others.  To meet this goal, the year is spent learning about and putting into practice Ignatian spirituality. To register for service learning opportunities click the Sign Up Genius button below.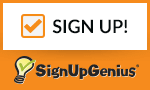 Registration 2017-2018 is CLOSED.
For questions and/or information about Confirmation, please send email to the Faith Formation Office at faithform@stpeterscatholic.org, or call us at 704-332-2901 ext 230.