Explore the Jesuits USA East website>>

Jesuits USA East is embarking on a two-year Apostolic Planning Process to help gain the necessary insights needed to position our province (the second largest in the world) to best serve the People of God through all our ministries and institutions. What does this mean exactly? Why do this now? Who will be involved? This video features a personal perspective from both a UEA Jesuit and a lay colleague to help emphasize the need for an Apostolic Plan and the importance of having Jesuits and our colleagues in mission actively involved in its creation.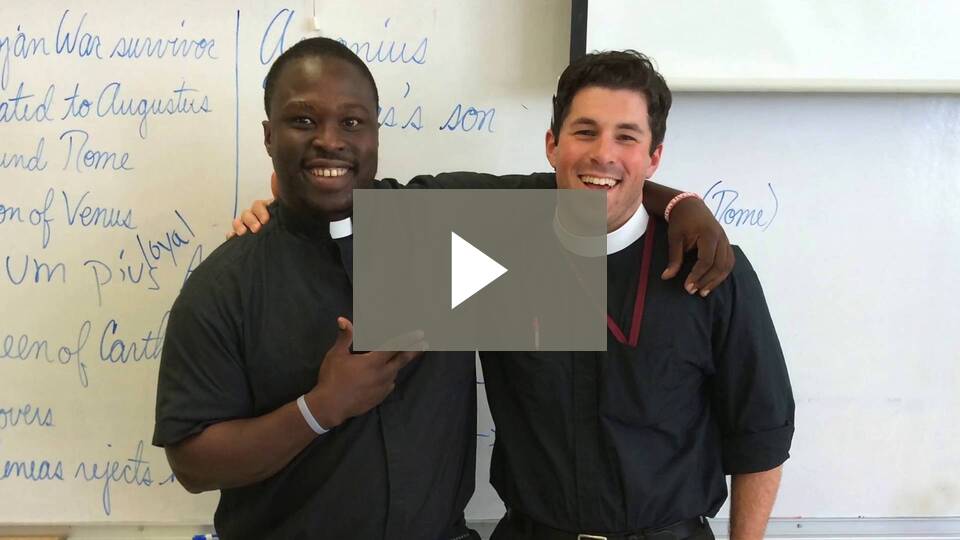 The Journey to a Great Life-HD
Meet the Jesuits Preparing for Ordination to the Priesthood on June 11


On June 11, 2022, the USA East Province will ordain three Jesuits to the priesthood at the Fordham University Church (left to right): Matthew Cortese, SJ; Sean Hagerty, SJ; and Sudzer Charélus, SJ (Province of Canada). These three men have completed a 10-year formation process that began as a discernment and a call of the Holy Spirit. They will soon embark on their vocations as Jesuit priests, serving the Catholic Church and the people of God. Click here to read their bios.


 Curious about becoming a Jesuit? 
 What is Ignatian Spirituality?  

 5 Things the Spiritual Exercises Taught Me About Jesus>>


We offer these prayer links for you to stay engaged, hopeful and supportive with others.
The Pope's Intention for May:  For Faith Filled Young People
We pray for all young people, called to live life to the fullest; may they see in Mary's life the way to listen, the depth of discernment, the courage that faith generates, and the dedication to service. 
Pope's Worldwide Prayer Network: http://popesprayerusa.net

Daily Offering Prayer
God, our Father, I offer You my day. I offer You my prayers, thoughts, words, actions, joys and suffering in union with Your Son Jesus' Heart,
who continues to offer Himself in the Eucharist for the salvation of the world. May the Holy Spirit, Who guided Jesus, be my guide and my strength today so that I may witness to Your love. With Mary, the mother of our Lord and of the Church, I pray especially for this month's intentions as proposed by the Holy Father.
Heartbroken: A Prayer for Ukraine  click here
Ignatian Spirituality Programs at St. Peter Church

Videos 
Video of Ignatius' story in less than 10 minutes!  Ignatius of Loyola – Finding God In All Things


News LINKS 
Live Stream Jesuit Parish Masses Every Day of the Week