Meet the Jesuits at St. Peter parish
   Explore the Jesuits USA East website
Jesuits USA East is embarking on a two-year Apostolic Planning Process to help gain the necessary insights needed to position our province (the second largest in the world) to best serve the People of God through all our ministries and institutions. What does this mean exactly? Why do this now? Who will be involved? This video features a personal perspective from both a UEA Jesuit and a lay colleague to help emphasize the need for an Apostolic Plan and the importance of having Jesuits and our colleagues in mission actively involved in its creation.



The Society of Jesus (Jesuits) discerned four priorities to focus on in the next ten years. These apostolic preferences are in agreement with the current priorities of the Church, and acting on them will "do what is for the greater divine service and the more universal good". Click on the image above to see a video (2:46) about the Jesuits' mission in today's world.  
To show the way to God through the Spiritual Exercises and discernment; 

To walk with the poor, the outcasts of the world, those whose dignity has been violated, in a mission of reconciliation and justice; 

To accompany young people in the creation of a hope-filled future;

To collaborate in the care of our Common Home.
New!  The Jesuit Pilgrimage App: At Home, On A Journey
Check out the newest digital resource from the global Society of Jesus! A new app to take you to the places that inspired St. Ignatius of Loyola. And you don't even have to leave your home! Download on Android or iOS.
Get Started

 Curious about becoming a Jesuit?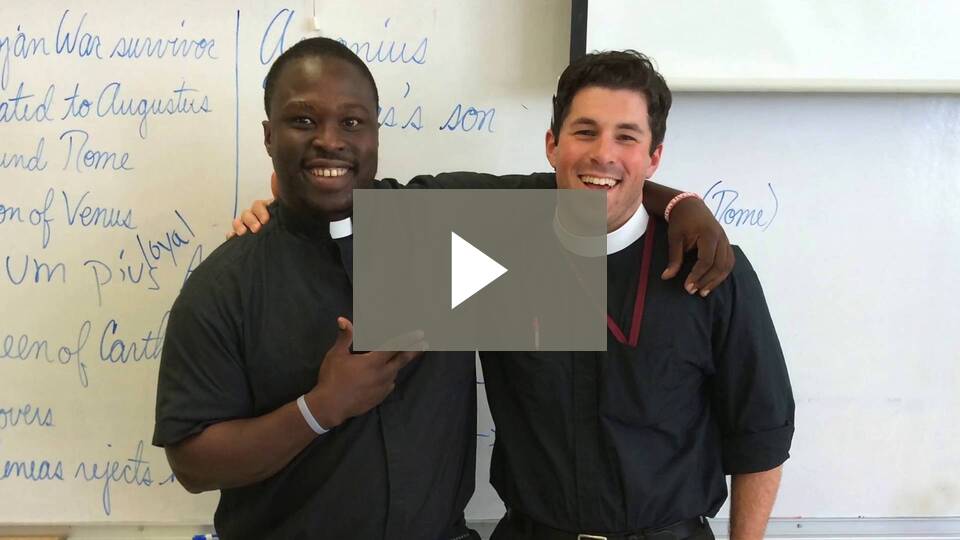 The Journey to a Great Life-HD

 What is Ignatian Spirituality?  

 5 Things the Spiritual Exercises Taught Me About Jesus>>


We offer these prayer links for you to stay engaged, hopeful and supportive with others. 
Pope's Worldwide Prayer Network: http://popesprayerusa.net

Daily Offering Prayer
God, our Father, I offer You my day. I offer You my prayers, thoughts, words, actions, joys and suffering in union with Your Son Jesus' Heart,
who continues to offer Himself in the Eucharist for the salvation of the world. May the Holy Spirit, Who guided Jesus, be my guide and my strength today so that I may witness to Your love. With Mary, the mother of our Lord and of the Church, I pray especially for this month's intentions as proposed by the Holy Father.
Heartbroken: A Prayer for Ukraine  click here
Ignatian Spirituality Programs at St. Peter Church

Videos 
Video of Ignatius' story in less than 10 minutes!  Ignatius of Loyola – Finding God In All Things


News LINKS 
Live Stream Jesuit Parish Masses Every Day of the Week