Prayer in Lent
Almighty and ever living God,
you invite us deeper into your world, your people, your Lent.
May this time be one of outward focus;
seeking you in those we often ignore.
Help us live a Lent focused on freedom, generosity, and encounter.
Give us hearts hungry to serve you
and those who need what we have to give.
Amen
—Author unknown, published on jesuitresource.org


Live Stations of the Cross with Fr. James Martin, SJ – Friday, March 12, 2021 at 2pm ET
Join JRS/USA for a live reading of the Stations of the Cross with Fr. James Martin, SJ. Join us, as we accompany Jesus on his journey, as we reflect in solidarity and pray for displaced people around the world.   
RSVP here  
The live event will be recorded, so you can return to this as a spiritual resource throughout the Lenten season. You can also download a copy our stations here: https://www.jrsusa.org/resource/stations-of-the-cross/
Join us for a discussion of the book "Caste" by Isabel Wilkerson on Thursday evening, April 8 at 7:00 p.m. via Zoom. 
Sign up to receive the Zoom link for April 8 discussion:
St. Peter Ignatian Spirituality Programs:
Ignatian Spirituality Closing Lent Virtual Retreat
"Forgiveness, Mercy, Hope: The final words of Jesus"
Saturday, March 27 via Zoom
10 – 11:30 AM
REGISTER
A morning retreat inspired by Scripture, presented by the St. Peter Ignatian Spirituality Team. Experience a guided reflection on the theme, a guided group meditation on the scripture, imaginative contemplative prayer, private meditation and paired participant sharing. 
 The recording of the Opening Lent Retreat is on this page.
"The Light is On For You" Reconciliation March 22 – 27
Monday-Friday 5 to 7 PM,  March 27 Saturday 3:30 to 4:30 PM, and every Wednesday 11:15 -11:45 a.m. in Biss Hall
Teen Lent with Jesus:    
Go deeper this Lent and connect with other St. Peter teens! Join us via Zoom from 12:30 - 1:30 pm on Sundays February 21, 27, and March 7 and 14 with Fr. John to reflect on some of the questions Jesus asks us in the Gospels. What would it be like to have Jesus ask you his saving questions, and to reflect on what they might mean today? You may want to ask him a few questions yourself. 
To register email Fr. John [email protected] or Cathy Chiappetta [email protected]
Remember our RCIA Catechumens (to be baptized) and Candidates (to be confirmed) as they continue their journey of faith toward entering the Catholic Church fully at the East Vigil.
We accompany them in our own renewal of baptismal promises and pray with them during Lent.
"The Light is On For You" Reconciliation during Lent
March 22 – 27 (times TBA) and every Wednesday 11:15 -11:45 a.m. in Biss Hall
Make A Prayer Spiral:   Video    Instruction
Stations of the Cross - 
St Peter Stations of the Cross
The Way of the Cross (Midwest Jesuits)
Jesuit Refugee Service Stations of the Cross: Use JRS/USA's Stations of the Cross to accompany Jesus on his journey, as we watch and pray over displaced people around the world.
Lenten Programs from the Jesuits and Ignatian Spirituality:

Growing in Friendship with God this Lent (Video)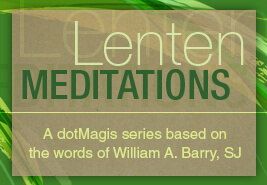 Make A Prayer Spiral:   Video    Instruction
Sign up for weekly reflections - 40 Days of Ignatian Spirituality
Knowing Jesus - Get to know and love Jesus better this Lent from Pathways to God

The Jesuits of Scotland offer a daily online retreat with music, scripture, imagery and Ignatian prayer methods.
Begin your prayer here>
Lenten Reflections & Small Group Conversation for Young Adults:
Young adults (20's and 30's) are invited to join Jesuit Connections and Charis Ministries during Lent for weekly, online small group gatherings on Mondays or Wednesdays, beginning Feb. 22, 2021. Groups will be self-led, and participants will be assigned to the same group each week. They will receive audio reflections, weekly readings and conversation questions ahead of the meetups. This experience is free and open to all young adults. To register, click here.    
For other Young Adult Lent activities, Click here for more information and to RSVP. 
Fasting for Humanity & Our Planet: Laudato Si Lent
400 Minutes 4 Refugees: A Lenten Challenge: Join JRS/USA in their Lenten challenge, 400 Minutes 4 Refugees, by offering 10 minutes of your day to prayer, fasting, and almsgiving in solidarity with refugees for the 40 days of Lent. The challenge starts on Ash Wednesday, February 17.


Ignatian Solidarity Network -  Steadfast A Call To Love:
During Lent, in these turbulent times, how can we persevere in our work for justice with a steadfast spirit, rooted in love?  Join writers from the Jesuit and broader Catholic network as we seek to answer this question, renewing each day throughout Lent our commitment to care for both our fellow human beings and our common home.
Pray the daily examen: This simple prayer reviewing your day helps you to see where God is present in your life. There are many versions of the examen, several of which can be found here. Try praying it daily. It only takes a few minutes.
Fast: When done in the proper spirit, giving up sweets or alcohol can be a helpful Lenten exercise. But also consider fasting from something that tends to otherwise fill your time or impede your free responseLent  to God: social media, gossip, busy-ness, complaining, putting yourself first.
Care for the poor: Whether by volunteering, or donating, or advocating, find a way that you can share your gifts with those in need.
African American Affairs Ministry Lent Calendar and Newsletter
Listen to Fr. Shea's Lenten messsage